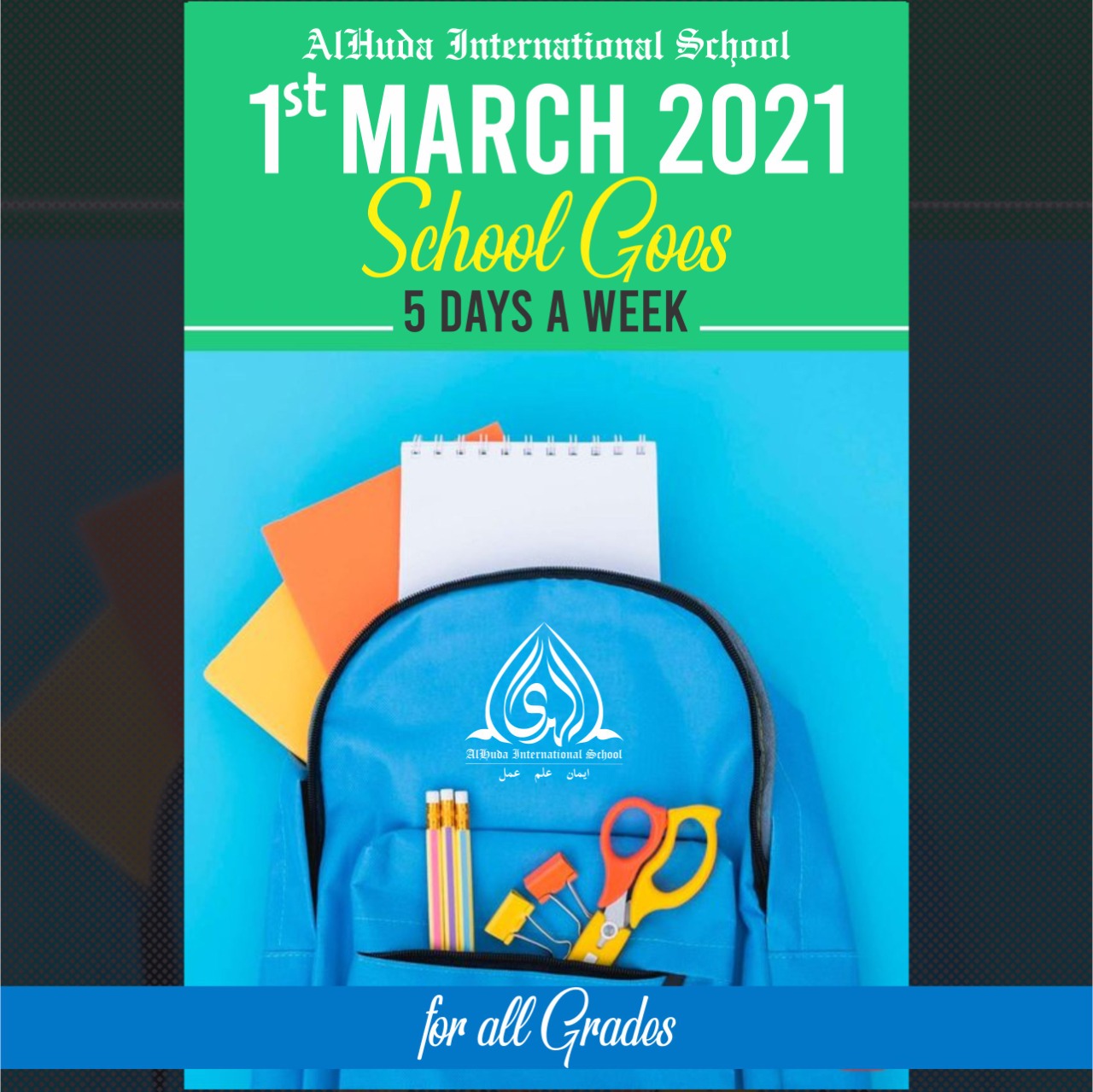 Dear Parents,
Assalamoalaikum!
As per Government directives, AIS administration is pleased to inform you that we will be observing regular on-campus school hours 5 days a week starting Monday, 1st March '21 Inn sha Allah.
✏️Updated Timetables will be uploaded on VLE by Sunday, 28th February '21 and will be pasted in students' diaries after a week.
✏️Arrival and departure time of students is uploaded below.
✏️For the parents' convenience Weekly Syllabus will continue to be available on VLE.
✏️Please revise COVID SOPs (https://www.aispk.org/covid/) with your child and make sure that he/she maintains social distance with his friends and wears a clean mask everyday.
✏️Students shall bring their own prayer mats from Grade II – AS Level.
🤲🏼May Allah (SWT) help us to continue our learning in the best possible and safe way. Ameen
Looking forward to an energetic resumption!
wassalam,
AIS Admin
26 Feb '21
Campus Reopening Schedule
.
| | | | |
| --- | --- | --- | --- |
| AS Level | 07:45 am | 02:40 pm | 03:00 pm |
| | | | |
| --- | --- | --- | --- |
| X | 7:45 am | 1:30 pm | 11:45 am |
| IX | 7:45 am | 1:30 pm | 11:45 am |
| VIII IGCSE | 7:45 am | 2:40 pm | 12:20 pm |
| VIII Matric | 7:45 am | 2:00 pm | 11:45 am |
| AM | 08:00 am | 01:40 pm | 11:30 am |
| SM | 08:00 am | 01:10 pm | 11:30 am |
| JM | 08:15 am & 08:00 am (Fri) | 12:40 pm | 11:30 am |
| | | | |
| --- | --- | --- | --- |
| VII | 07:50 am | 02:00 pm | 12:20 pm |
| VI | 07:50 am | 02:00 pm | 12:20 pm |
| V | 07:50 am | 02:00 pm | 12:20 pm |
| IV | 07:50 am | 01:40 pm | 11:35 am |
| III | 07:50 am | 01:40 pm | 11:35 am |
| II | 07:50 am | 01:20 pm | 11:15 am |
| I | 07:50 am | 01:20 pm | 11:15 am |
| AM | 08:00 am | 01:35 pm | 12:00 noon |
| SM | 08:00 am | 01:05 pm | 12:00 noon |
| JM | 08:15 am & 08:00 am (Fri) | 12:35 pm | 12:00 noon |
| | | | |
| --- | --- | --- | --- |
| JM | 08:15 am & 08:00 am (Fri) | 12:40 pm | 12:00 noon |
| SM | 08:00 am | 01:10 pm | 12:00 noon |
| AM | 08:00 am | 01:40 pm | 12:00 noon |
| I | 07:50 am | 01:45 pm | 11:40 am |
| II | 07:50 am | 01:45 pm | 11:40 am |
| | | |
| --- | --- | --- |
| JM | 08:30 am | 12:45 pm |
| SM | 08:15 am | 01:00 pm |
| AM | 08:15 am | 01:30 pm |
| I | 08:15 am | 02:00 pm |
| II | 08:15 am | 02:00 pm |
| III | 08:00 am | 02:25 pm |
| | | | |
| --- | --- | --- | --- |
| JM | 08:15 am & 08:00 am (Fri) | 12:40 pm | 12:00 noon |
| SM | 08:00 am | 01:10 pm | 12:00 noon |
| AM | 08:00 am | 01:40 pm | 12:00 noon |
| I | 07:50 am | 01:40 pm | 12:00 noon |
| | | | |
| --- | --- | --- | --- |
| JM | 08:15 am & 08:00 am (Fri) | 12:40 pm | 12:00 noon |
| SM | 08:00 am | 01:10 pm | 12:00 noon |
| AM | 08:00 am | 01:40 pm | 12:00 noon |
| I | 07:45 am | 01:40 pm | 12:00 noon |
| | | | | |
| --- | --- | --- | --- | --- |
| Hifz | 07:45 am | 02:45 pm | 12:00 noon | 01:00 pm |